Fusion Festival is the legendary German festival, which is almost impossible to get tickets (they say that about half a million people claim 70,000 tickets). The festival is located at the former Soviet airbase and decorated like a communist dystopia style 

Fusion festival claims that it is not just a music festival, but an experimental community like Burning Men.
The police are not allowed into the festival, so the authorities are trying to close it, but public opinion is still winning.
You can bring your alcohol, and whatever you want, no one checks you out.
All food at the festival is vegetarian
Music plays non stop for 24 hours, there are probably 30 dance floors
The festival lasts almost a week, everyone lives in tents or caravans on Fusion festival grounds
There is a lake nearby, while it is 36 C outside must say it's pretty cool
There are taps with free drinking water everywhere at Fusion festival grounds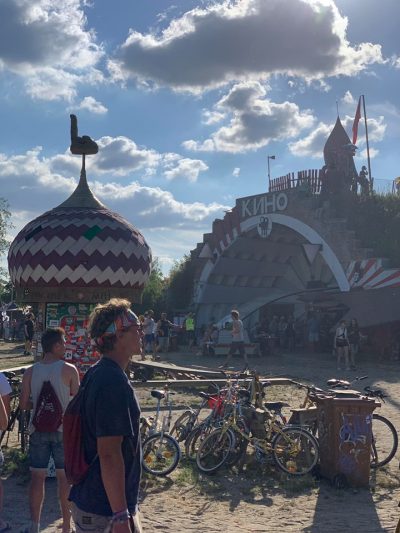 Despite the unlimited amount of alcohol and cats, as well as the lack of police (by the way, I didn't see the guard either) – everything is very easy going, haven't seen aggressive people during the whole week. People are super-positive and no snobs
There are a lot of showers on the territory, they are free, but without hot water. The cabins are open, and everyone is taking shower naked right in front of the crowd
At the Fusion festival, the dress code is not just free, but clothes are optional, so you can meet people of different levels of nudity.

There are installations, art machines, decorated bicycles, people in costumes – all this reminds Burning Man

Bus transfers are organized to bring people from nearby countries and cities. Some travel companies offer transfer also in your country. We are familiar with Maximal trips in the Netherlands. You buy a ticket for a specific date and time – and you are brought from the city station directly to the festival.
there are also Shuttles to the nearest city supermarket from the Fusion festival
To buy a ticket for 140 euros, you need to register as a group and participate in the lottery. If you are lucky, then the whole group gets the right to buy tickets. Tickets are all linked to a name so its impossible to resell it, they do check it at the entrance.
Everyone usually camps in groups of 10+ people, sets up tents, sofas, a bar, music, around a tent/car – everything is like at the Burning Man. But you can't reserve a place in advance, everyone can get settled where they want
At the entrance, tickets are exchanged for the bracelet. Your name on the ticket is checked like in your passport, you can freely enter and exit with the bracelet
What kind of music at Fusion Festival: Probably 80% techno, but the are also various genres like are psytrance, d'n'b, reggae, breaks, hardcore, etc. One dance floor per genre.
About 90% of the Fusion Festival population are Germans, almost no foreigners, almost all the signs are in German. But almost everyone is fluent in English too.